Toyota dealership in Sanford, NC
First and foremost, we are in the customer service industry. We want to make sure that you have anything and everything that you need. That is one of the many reasons why we have created this website. We wanted to make the car buying and researching process as easy as can be. Now you can hunt through our new and used inventory right from the comfort of your home. When you do finally come to see us in person, you have nothing to worry about. Our sales staff is comprised of some of the friendliest people in all of Sanford, and that's really saying something. At Fred Anderson Toyota of Sanford we love this community, and we would do anything to serve you and your family with the vehicle that you not only need, but that you deserve. We believe that the Toyota brand has the perfect car, truck, SUV or van for you, and we are ready to prove it. Come to Fred Anderson Toyota of Sanford where we will earn your business.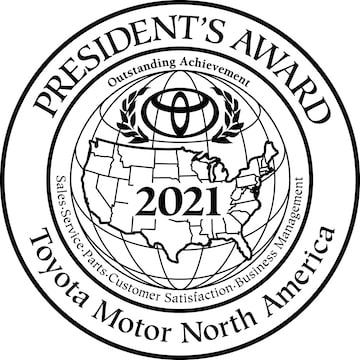 This year, Fred Anderson Toyota of Sanford received the Toyota President's Award and we couldn't be happier. The Award honors Toyota dealers that excel in their operations and to say "Thank You!," we're offering some amazing deals on our best models!
View Our Inventory
 Welcome to our Toyota dealership in Sanford, NC
This is the right place for new Toyota vehicles. We believe in the Toyota brand, and we are proud to bring them right to you in Sanford. We have worked hard to create a great selection of Toyota vehicles that will have something for everybody.
At Fred Anderson Toyota of Sanford there is a selection of used vehicles that will never disappoint. We take pride in the wide selection that we have on offer, and we also take pride in the quality of the vehicles that we have on our lot. When you want a used vehicle you still need something that you can rely on to get you where you need to go safely. That is exactly what you will find on our lot at Fred Anderson Toyota of Sanford. We take the time to inspect every vehicle that comes through here before we put it out on our lot. We will always offer you our best price right up front. We believe in honesty, and we believe in creating a comfortable place for you to shop for your vehicular future. Our sales staff will never pressure or force you into anything. They just want to get you into the vehicle that will work out perfect for you. If you are thinking about trading in your vehicle, then we can work with you on that and provide you with a quick quote that is reliable and competitive. Come to Fred Anderson Toyota of Sanford for all your used car needs. 
 We're here for whatever you need
Bring your Toyota to the service facility that knows how to handle anything that it may need done or that may be wrong with it. Even for service as simple as an oil change, you need a service shop that cares. We will take the time to get your oil changed correctly, and we will always use the right products. That attention to detail and level of care extends right into the rest of the services that we offer and provide. We can handle nearly anything that your Toyota may need, up to and including major engine and transmission repair. We will always be upfront with you regarding the service of your vehicle, and you can be sure that our ASE certified team at Fred Anderson Toyota of Sanford will know how to take care of your Toyota in a way that is befitting of its quality.
Not only can we provide you with the service that your Toyota needs, but we can supply you with the Toyota parts that are perfect for your vehicle. That is because we use genuine OEM manufacturer's parts when we service your vehicle, and those are the exact same parts that we will supply to you when you are looking to replace a worn out or broken part. We have a massive inventory of those parts in stock at Fred Anderson Toyota of Sanford at all times. We want to make sure that we can supply you with the part that you need when you need it, and if we do not have the parts that you are looking for, then we can order them and make sure that you get them as soon as possible. Once we have the part that you need, we can even install it for you and make sure that your Toyota has everything that it needs to keep right on rolling down the road. Give your Toyota the best chance at giving you many years of quality service and come to Fred Anderson Toyota of Sanford when your Toyota needs parts or service.
Welcome to Fred Anderson Toyota of Sanford, Proudly Serving Raleigh, Fayetteville, Chapel Hill, Apex and Morrisville Drivers
In addition to providing the drivers of Sanford, North Carolina with a cornucopia of new Toyota Camry, Prius, Corolla, Highlander, RAV4 vehicles and used cars, we at Fred Anderson Toyota of Sanford are dedicated to all of your automotive needs. Namely, that includes helping you find the model that best suits your lifestyle and your budget through conversations with our sales consultants and Toyota lease and financing experts.
But wait, there's more. After you've left our showroom and driven your new car home, our longstanding relationship has only just begun. Over the miles that you and your Toyota car share, our Toyota Camry, Prius, Corolla, Highlander and RAV4 service technicians are available to carry out your model's routine maintenance needs. Moreover, our comprehensive parts department houses all the fixings that do-it-yourself drivers require when electing to tackle their own automotive repairs.
In summary, we at Fred Anderson Toyota of Sanford are looking forward to assisting you in the ways in which match your automotive needs. To learn more about the products and services that our team provides, we welcome you to visit our showroom at your earliest convenience. Housed nearby at 3321 Highway 87 South Sanford, North Carolina we're happy to continue the conversation and answer any questions.