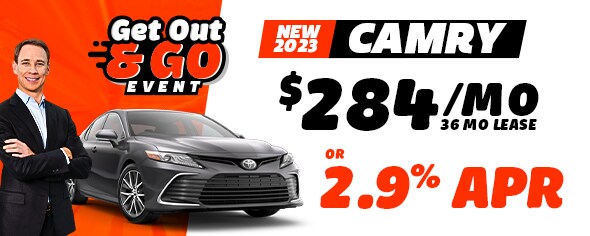 New 2023 Camry
$284/mo for 36mo lease
OR 2.9% APR
Excludes TTL & $699 dealer fee;  Customer responsible for insurance on the leased vehicle; MY23 Camry Mdl 2532, Ex MSRP $28113; Lease $4299 down plus 1st month's payment Due At Signing with approved credit based on 36 month closed-end lease, $0 security, Lessee responsible for maintenance, excess wear and use, auto insurance on the leased vehicle, and will pay $0.18 per mile for all mileage over 12,000 miles per year. $350 disposition fee is due at lease end. Cannot be combined with SETF APR Cash, SETF Lease Cash, Customer Cash, APR, APR Subvention Cash, $10224 total monthly payments; 2.9% APR 48 Months with T1/1+ approved credit based on $22.09/$1,000 financed with approved credit through SETF, $0 down subject to credit approval; Ends 10.31.2022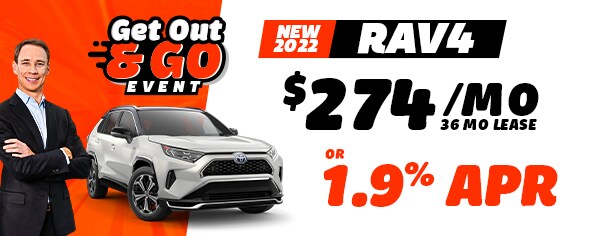 $274/mo for 36mo lease
OR 1.9% APR
Excludes TTL & $699 dealer fee;  Customer responsible for insurance on the leased vehicle; RAV4 LE Ex Mdl 4430, Ex MSRP $27,700; Lease $4299 down plus $274 1st month's payment due at signing, with approved credit based on 36 month closed-end lease, $695 acquisition fee, $0 security, Lessee responsible for maintenance, excess wear and use, auto insurance on the leased vehicle, and will pay $0.18 per mile for all mileage over 12,000 miles per year. $350 disposition fee is due at lease end. Cannot be combined with SETF APR Cash, SETF Lease Cash, Customer Cash, APR, APR Subvention Cash, $9864 total monthly payments,1.9% APR 36 Months with T1/1+ approved credit based on $28.60/$1,000 financed with approved credit through SETF, $0 down subject to credit approval; Ends 10.31.2022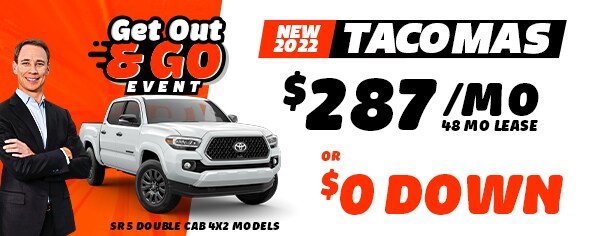 $287/mo for 48mo lease
OR $0 Down
Excludes TTL & $699 dealer fee;  Customer responsible for insurance on the leased vehicle; MY22 Ex Mdl 7146, Ex MSRP $35473; Lease $3999 down plus $287 1st month's payment due at signing, with approved credit based on 48 month closed-end lease, $695 acquisition fee, $0 security, Lessee responsible for maintenance, excess wear and use, auto insurance on the leased vehicle, and will pay $0.18 per mile for all mileage over 12,000 miles per year. $350 disposition fee is due at lease end. Cannot be combined with SETF APR Cash, SETF Lease Cash, Customer Cash, APR, APR Subvention Cash, $13776 total monthly payments, $0 down subject to credit approval; Ends 10.31.2022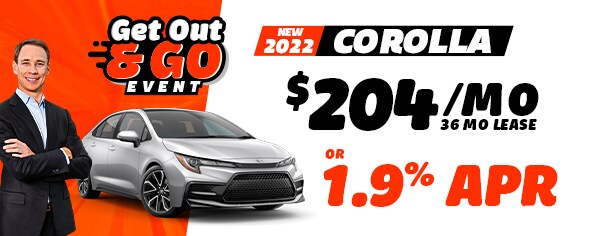 $204/mo for 36mo lease
OR 1.9% APR
Excludes TTL & $699 dealer fee;  Customer responsible for insurance on the leased vehicle; Mdl 1852, Ex MSRP $21,559; Lease $3999 down plus 1st month's payment due at signing, with approved credit based on 36 month closed-end lease, $0 security, Lessee responsible for maintenance, excess wear and use,  auto insurance on the leased vehicle, and will pay $0.18 per mile for all mileage over 12,000 miles per year. $350 disposition fee is due at lease end. Cannot be combined with SETF APR Cash, SETF Lease Cash, Customer Cash, APR, APR Subvention Cash, $7344 total monthly payments, 1.9% APR 36 Months with T1/1+ approved credit based on $28.60/$1,000 financed with approved credit through SETF, $0 down subject to credit approval; Ends 10.31.2022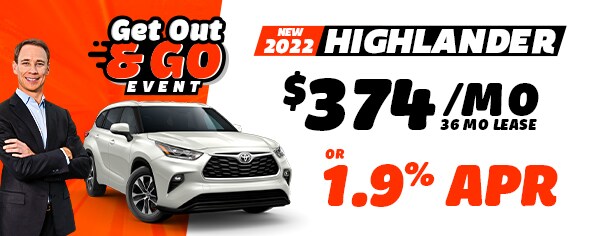 $374/mo for 36mo lease
OR 1.9% APR
Excludes TTL & $699 dealer fee;  Customer responsible for insurance on the leased vehicle; LE Mdl 6946, Ex MSRP $38580; Lease $4299 down plus $374 1st month's payment due at signing, $13464 total monthly payments,  leases with approved credit based on 36 month closed-end lease, $0 security, Lessee responsible for maintenance, excess wear and use,  auto insurance on the leased vehicle, and will pay $0.18 per mile for all mileage over 12,000 miles per year. $350 disposition fee is due at lease end. Cannot be combined with SETF APR Cash, SETF Lease Cash, Customer Cash, APR, APR Subvention Cash;  1.9% APR 36 Months with T1/1+ approved credit based on $28.60/$1,000 financed with approved credit through SETF, $0 down subject to credit approval; Ends 10.31.2022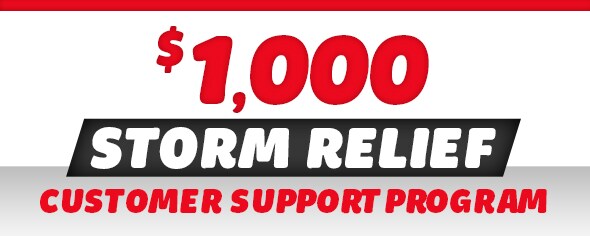 $1,000 Storm Relief Customer Support Program
Excludes TTL & $699 dealer fee;  $1,000 SET Storm Relief Customer Support valid to customers with verifiable damage to their vehicle (or totaled) as a result of severe weather or flooding between 9/28/2022 and 10/12/2022; only 1 certificate per new vehicle transaction and is non-transferable; valid on new MY22 or MY23 Toyota models from 9/28/2022-1/3/2023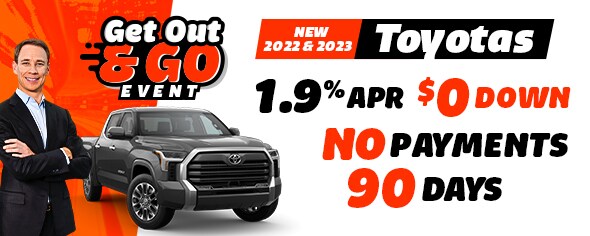 New 2022 and 2023 Toyotas
1.9% APR, $0 down, and 90 Days No Payments
Excludes TTL & $699 dealer fee; $0 down with approved credit, $0 down with approved credit, 1.9% APR up to 36 Months on select MY22 & MY23 Toyota models with approved credit based on $28.60/$1,000 financed, excludes Venza, 4Runners, ProSeries, Tundra, Prius & Avalon  models; $0 down payment subject to credit approval, $0 payments 90 days valid on select 2022  Toyota models with approved credit; Deferred payment program from date of contract, Accrual of interest commences from date of contract & consumer responsible for payment of accrued interest, provided by dealer up to $3,000 total, see dealer for full details; Offers cannot be combined; Ends 10.31.2022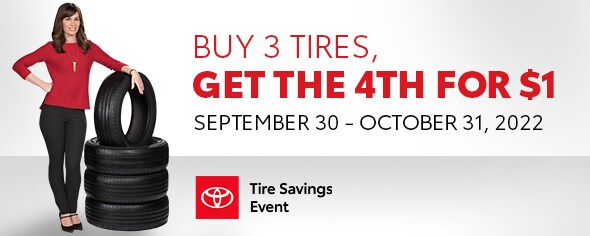 Buy 3 Tires, Get the 4th for $1!
One month only!
*Restrictions apply; See dealer for details; Replacement tires only. Tires must be purchased and dealer installed by October 31, 2022. Discount applied at time of purchase for qualifying Tires. Excludes mounting & balancing, sales tax, shop supplies, tire disposal & other applicable taxes. Excludes previous purchases. Toyota & Scion vehicles only.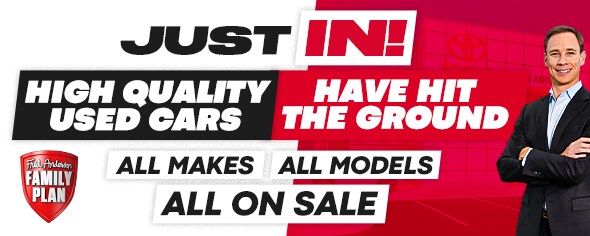 High quality used cars just in!
All makes, all models, all on sale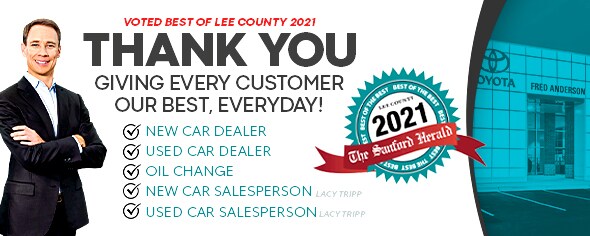 Voted Best of Lee County 2021!
New Car Dealer
Used Car Dealer
Oil Change
New Car Salesperson (Lacy Tripp)
Used Car Salesperson (Lacy Tripp)

Up to $3,000 Over KBB Trade Allowance! 
Get Paid to Trade 
Excludes any reconditioning items, annual average miles 10K and under, see dealer for details.